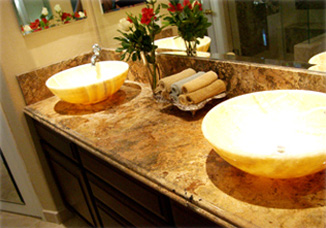 Gurrola Tile
is
The Best Tile and Granite Contractor in Las Vegas
Home designers and builders have relied on Gurrola Tile creations for some of Las Vegas's largest and most spectacular custom homes.
You can be confident that work done by the professionals at Gurrola Tile is engineered, measured and built right. With over twenty years in the business of quality stone and tile fabrication and installation your home or office will be transformed.
Custom Granite Countertops, Marble, Stone, Flooring ...
From shower stalls, bathroom counters, fireplaces, backsplashes, walls, entryways, new construction, and even your boat or RV. A beautiful home or office is just a phone call away!
Call today and experience the excitement of a total transformation with the confidence of doing business with one of Southern Nevada's oldest and most professional licensed stone and tile contractors.
Complete Granite Countertop Installation...Add Value to your Home!
Everyone loves the rich look of granite countertops and the way it transforms a kitchen, bathroom, outdoor kitchen and any other room in the house. Granite floors are easy to care for and are an elegant upgrade for your home or business. Granite, whether for countertops or flooring, is an investment in quality, beauty and durability. It is important to get the best installer with experience in install them properly so you can enjoy them for years. We fabricate and install all kinds of stone slab and install stone or porcelain tile and are the best in Las Vegas.
Gurrola Tile, The Top Professional Granite Counter Top Fabricator and Installer in Las Vegas, NV.
For a total kitchen remodel with new granite countertops or a complete bathroom remodel with granite countertops, granite floors or other decorative features, we are the most professional team to provide it for you. Gurrola Tile will provide installations of natural or man made stone you can be proud of in any home or business in Nevada.
We have the satisfied customers to prove it. From the most expensive custom granite installations in homes, extravagant casino projects or an outdoor fire-pit in your neighbor's backyard, Gurrola Tile has a reputation for top-quality and professionalism. When you have a kitchen or bathroom remodel or are building a fine custom home we are confident you will experience customer satisfaction and pride in a job well done.
No matter what your granite or tile project, we can handle it! For the best granite counter tops, stone and tile work in the Las Vegas area call today! We serve the entire valley including:
Henderson
Sun City Anthem
Sun City Summerlin
Mountains Edge
Summerlin
Southern Highlands
Seven Hills
North Las Vegas
Boulder City